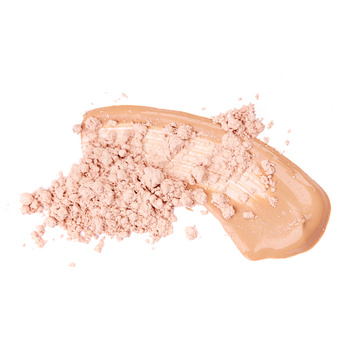 Different Types Of Mineral Makeup
Mineral makeup companies can offer a variety of products to try and appease the consumer for different mineral makeup applications.
You'll find it in loose powder form, pressed powder, liquid foundation and cream. Of course for safety reasons, most will have to use preservatives to prevent bacterial, fungal and mold growth in the mineral makeup formulas which contain moisture.
It is usually in the form of parabens or a preservative blend and isn't always disclosed on the ingredient list. It can be hidden under the term "fragrance" so you'll not always know what you are putting on your face.
Mineral Makeup Liquid Example
An example of a proclaimed liquid mineral makeup label:
Water, Propylene Glycol, Caprylic/Capric Triglyceride, Glyceryl Stearate, Dimethicone, Stearic Acid, Glycerin, Polysorbate 20, Cyclomethicone, Phytonadione, Panthenol, Allantoin, Camellia Sinensis (Green Tea) Leaf Extract, Ginko Biloba Leaf Extract, Anthemis Nobilis Flower Extract (Chamomile), Aloe Barbadenisis Leaf Extract, Cucumis Sativus Fruit Extract (Cucumber), Aluminum Starch Octenylsuccinate, Cetyl Alcohol, Lecithin, Magnesium Aluminum Silicate, Xanthan Gum, Simethicone, Sorbitan Stearate, Triethanolamine, Cellulose Gum, Methylparaben, Propylparaben, Tetrasodium EDTA, Phenoxethanol, Titanium Dioxide (CI 77891), Zinc Oxide (CI 77947). May contain: Iron oxides (CI 77489, CI 77491, CI 77491, CI 77499), Zinc Oxide, Titanium Dioxide
Not Even Remotely Close To A True Mineral Makeup Product
As you can see, this is not a mineral makeup at all, but contains ingredients you can find in just about any liquid foundation which are typically synthetic chemicals, thickeners, preservatives, silicone derivatives and some very nice botanical extracts. Notice the crucial sun protecting minerals are at the bottom of the ingredient list, making these a factor of less than 1% due to their placement behind the preservatives. Plus, when they are found in the "May Contain" portion of ingredients, then these are being solely used as a potential colorant.
There are mineral makeup base formulas by companies however, created in cream form and other liquid foundations keeping the ingredient list simple and true to it's name, (mineral) for the most part. These are typically without preservatives due to the manufacturer trying to maintain an all natural product claim, while in reality this would be completely unsafe for skin health as microbe activity would grow at an alarming rate.
Pressed Powder Alternative Needs Caution
Pressed powder can be infused with or without preservatives, but the simple fact is, in a container where they are exposed to air preservatives will not hold up throughout the life of this type of mineral makeup use. After repeated touching of the brush going from pot to face and back to colored pot it becomes a filthy germ filled application of mineral makeup over time.
Stick With The Best Application
Loose mineral powder is truly the cleanest form anyone can use, but again you'll find many companies infusing their minerals with a whole slew of other ingredients other than minerals which can also cause problems for skin. Many commercial and professional mineral cosmetic lines also contain unnecessary preservatives and synthetics, along with potential skin irritants (sensitizers) in the form of useless ingredients or silica and bismuth oxychloride.