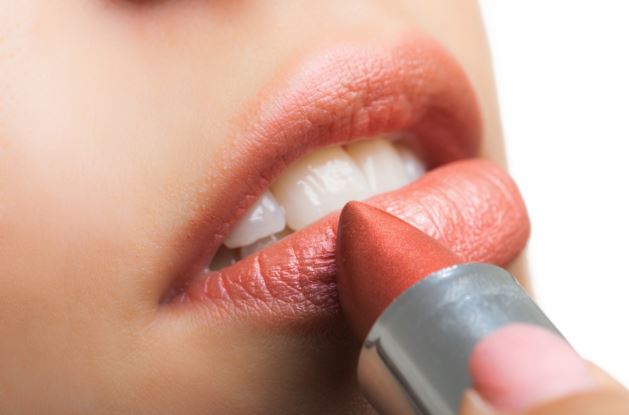 Natural Lipstick Is A Healthier Choice
UPDATE: We will soon have all lipsticks closed out and discontinued to provide something richer and very moisturizing to your lips. Please continuing reading to enjoy our lipstick beauty tips.
Our Lip Color products do provide lovely pigment and will not cause dryness to your lips. However, If you're not used to using a natural lipstick product you will notice a difference in the application and feel of the lip color. Natural Lipstick is not produced like its synthetically created counterpart that utilizes silicone oils and colorants such as dyes and lakes, so the slip and glide and the instant intense color you may be used to with commercially produced lipstick will be different.
Dyes and lakes are quite drying to the lips and are created with petroleum or coal tar processes. This is the reason why synthetically created lipstick requires silicone oils and other slip agents in order to help with ease of application and give the lips a feel of moist texture and prevent drag.
Our lipstick contains colorants of Iron Oxides and Mica only and we never use Carmine. This helps reduce our exposure to over processed, possibly harmful synthetic chemicals while providing a nice natural light reflecting, satiny pearlescence to the lips, giving a more youthful appearance without dryness.
The Differences Are Subtle, Yet Amazing
Our natural lipstick is made with organically derived natural butters and oils which contain wonderful moisturizing properties for chapped lips and will provide a smooth and supple lip finish.
Plus we also now offer our Kissable lip shine shade which allows our ladies to experiment with layering over other lipstick shades to achieve a completely new color or wear it alone. And of course women have shown us they love this new shade so we now offer the same shade in lipstick.
Our natural lipstick performs like a "buttery, creamy" smooth lip balm. Applying in layers will increase coverage, color vibrancy and improve the moisture your lips need. So even though a Lipstick made up of synthetic colorants and ingredients may lay down color in short order, our natural Lipstick will be healthier for you. It just requires a layering technique for buildup of the shade to enjoy the rich, vibrant feminine color and to keep lips soft and smooth, reapply as needed.
How Do I Choose My Shade?
As for choosing the best color for your particular skin tone, natural lip colors are very beautiful no matter the shade. You can also control the subtlety of the shade unlike commercial brands, which in most cases if you're not careful with your application, it will require blotting with a tissue to prevent bleed or feathering or to remove some color intensity. Ours won't feather or bleed into the fine lines around the mouth and you can control the color intensity.
LIPSTICK COLOR NOTICE: We display each lip shade on a neutral white complexion to see the accurate undertone and overtone. Please note as with any lip color you choose, shades can appear different once applied to the lips depending on your ethnic skin tone. Our lipstick also contains Mica colorant which adds a slight sheen for a more youthful look. A friendly reminder; colors can display differently depending on the device used for shopping. A detailed color description is provided to assist with your best color choice.
Color Intensity: When we are young our lips have rich blushy pigment which can require more product if you are looking for coverage of a different shade. A sheer application can conflict with the natural color of your lips, giving you an entirely different finished look. As we age on the other hand, this lip pigment is lost so lip colors can appear more intense, yet will seem to remain more true due to no pigment conflict.
Careful Not To Break It!
CREAMY LIPSTICK PRECAUTION: Only twist up a 1/4 to 1/2 inch of lipstick to avoid breaking it off the base as shown in the photo above. Best advice is to apply with the tear drop point of the lipstick directly at your lips instead of using the tear drop angle which pushes the lipstick sideways. Also during hot weather, place lipstick in refrigerator to harden the waxes since an overly warm lipstick can become a broken lipstick, and allow a cold brittle lipstick to acclimate to indoor temps (70 degrees or more) to prevent it from snapping from it's base. The good news is, we use a combination of vegan friendly waxes to create a bullet resistant to breakage.
COLD WEATHER APPLICATION NOTE: A cold lipstick will not apply well to the lips and can drag. We recommend for smoothest application of your natural lipstick, to make sure your lipstick is room temp or warmer during cold weather.
Best Color Tips
Color tips should be factored in when choosing a shade. Think about blush or eye color; if a certain shade didn't go well with your complexion in the past, then choose similarly when seeking to find that compatable shade of lipstick. These many articles within our education center are here to help you at any time! You can also review the best selection of lip color choices.
Also if you require high moisturizing levels, then layering with a Lip Shine can provide this while also increasing color vibrancy or changing up a shade a bit. For the ultimate lip coloring experience, we recommend combining our lipstick and lip shine together for the longest lasting color.
Enjoy The Perfect Pout!