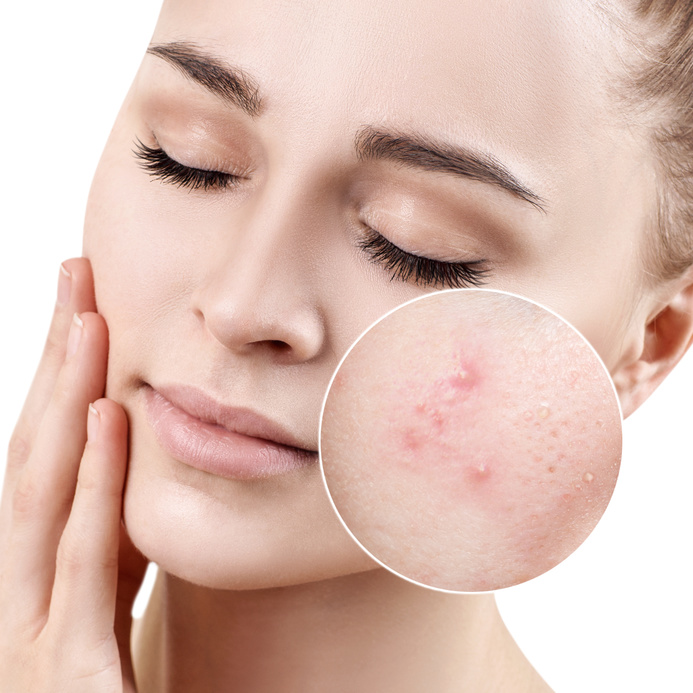 Why Acne Or Cystic Acne Sufferers Should Use Our Mineral Makeup
To date we have seen and heard of the excellent results our acne prone customers have achieved using our mineral makeup. Sterling Minerals uses non-occlusive ingredients only and is created to help women avoid any further irritation to their acne or sensitive skin issues. In fact many acne sufferers have seen improvement to their skin health after switching to our mineral makeup brand. We don't use Talc, Bismuth Oxychloride, Cornstarch, Silicone oils Lakes, Dyes, Chemicals that can be considered harsh on fragile skin, or any irritating organics of any kind which are also known to be catalysts to causing more acne on the face.
Using our mineral makeup will give you long lasting coverage and leave your skin looking blemish free while instantly regaining a youthful appearance. You'll feel absolutely beautiful while allowing your acne to heal.
Our mineral powders offer benefits for all skin types since oily or dry skin can suffer from acne as well. They offer remarkable oil control when needed without drying out the skin. For those with exceptionally delicate or inflamed skin, we have Evening Rose Veil to use at bedtime or with your Rose Petal Mineral Foundation for additional help to soothe irritated skin. Our Jojoba Oil pH balances skin while soothing irritation, and Jojoba mimics your skins' natural sebum and will help reduce its overproduction which can clog pores and create a food source for bacteria. Jojoba penetrates skin quickly and leaves a velvety finish to the face while providing a moisture barrier to keep skin soft and supple.
Our Allantoin is wonderful for irritated skin and is known for its' properties to speed proliferation of skin cells, while rice powder provides soothing comfort to inflamed or bleeding pimples.
However, we do advise to break the habit of over buffing your minerals that other brands advise for application, since this only serves to grind the mineral makeup product into the pores creating a blockage, whereby producing more acne. Press and sweeping action keeps skin free of pore blockage and irritation. Also, like with any makeup products, if you are applying heavy coverage, this may also contribute to pore blockages and will exacerbate any acne problem regardless of whether or not it is mineral makeup.
We Know You Are Excited To Try Our Mineral Makeup, But Take It Slow At First
When you purchase Sterling Minerals, we advise you not to change your skin care routine so that you may begin to narrow down what could be causing repeated breakouts if they should continue. Keep it simple in the beginning. Once you have used our minerals for a couple of weeks and your skin seems to be doing well, then we recommend you add our extremely gentle line of ONATI Skin Care to your daily skincare routine.
With continued breakouts it is possibly the synthetic chemical ingredients in your skin care regimen that are continuing to bother your skin on occasion, not the minerals. Even if you are not acne prone, you should wash your face twice per day in order to wash away bacteria, pollutants and the excess oil your mineral powders absorb throughout the day. And always keep your brushes clean by washing them at least once per week since dead skin and pore blocking sebum accumulates on the brush, whereby redepositing it back onto the skin, which in turn can cause future cases of more acne.
Other Factors To Look For When Dealing With Intermittent Bouts Of Acne

Acne Location: When combating acne besides using mineral makeup products, is to examine where you are breaking out. If you have recurring acne located around the hairline such as temples and forehead, this can most likely be from wearing hats or the use of hairsprays, gels and certain shampoos and conditioners, especially if they have film formers in them. Anything sticky that is used to defy gravity in your haircare will cause clogged pores and seal up the skin, creating blockages.
Acne around the mouth and chin can be caused by some unconscious habits with the hands. When sitting at your desk or in your favorite chair, are you constantly resting your chin in your hand with fingers resting against your mouth? Or are you leaning your cheek against your hand while watching television? Every time you do this you are preventing air flow to the skin, (essentially blocking pores) while introducing dirt, oil and bacteria that may be on your hands to what may already be irritated skin, undoing the benefits of a freshly washed face. Cleansing is pointless if you keep touching your face.
Do you have allergies? Are you constantly rubbing and itching your nose? This will also cause breakouts in that area.
What you may think is an oily T-Zone problem may be due to constant rubbing or itching of your nose or pore clogging hair care in the forehead area and hands on the chin.
Try To Refrain From This Unconscious Habit
Even though you are tempted to feel the wonderful silkiness of our mineral makeup products, we encourage you to not touch your face for the cleanest skin possible. Reexamine your use of products and body postures and you may finally end the cycle of continuous acne or cystic acne breakouts.