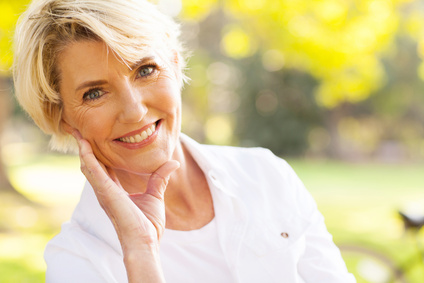 Mature Women Can Appreciate This Fact As Skin Ages
As women age, we tend to get areas on our necks and chest that crease or fold providing a spot for perspiration to gather and remain, sometimes causing discomfort in those areas. The skin can get irritated or even develop a slight heat rash. Mature women in menopause are all too familiar with this phenomenon.
Our Satin Rose Mineral Veil is not just for setting your mineral makeup, but for using on areas you wouldn't normally think of placing it. Whether you are wearing your daily mineral makeup or not, just pick up a small amount of mineral veil on your mineral makeup brush and sweep it onto these areas or any other spot you have that tends to hold perspiration.
Satin Rose Mineral Veil will not only cool those areas, but will help to soothe and absorb the perspiration, keeping those areas drier.
Plus, mineral veil will also help with slip, whereby reducing friction on the skin and the irritation caused by it.
Some areas of concern for mature women, are the sides of the neck, the area where the neck meets the collarbone and down into the decollete. Satin Rose Veil also stands up to moisture by having hydrophobic properties, helping it to stay put throughout the day.
So next time you feel hot and uncomfortable, try a spot of Satin Rose Mineral Veil on those areas and see if it doesn't assist with keeping you cool, dry and reduce irritation caused by skin friction.
Also, on the days you do wear your mineral makeup, try placing some of your Rose Petal Foundation in these areas as well, followed by a layer of Satin Rose Veil for added moisture protection.
Side Effect: Mineral Veil will also provide some soft focus for reducing the appearance of those lines and wrinkles due to the composition of the formula.