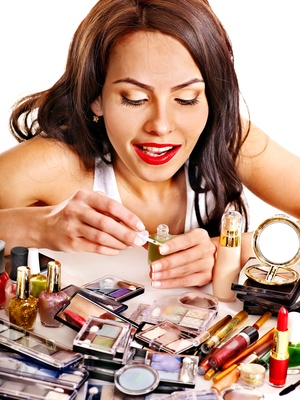 Feeling Overwhelmed?
Have you every looked in your drawer and you see so many eye shadows you may be a self identified makeup hoarder? You have acquired many mineral eyeshadow shades, yet you have your favorites in this vast eye makeup repertoire.
Are you struggling with throwing them out? Well let's gauge what is the best course of action of either keeping them or throwing them out. Some ideas below will help you with taking them to the trash without another moment's pause.
Pressed versus loose mineral eye shadows
If your drawer has become a multitude of pressed eye color palettes, then there really is a time to throw these out. For one, the application is no longer clean after repeated use and depending on the agents for pressing, they can become brittle and dry and no longer retain the luxurious texture they had when new. Ideally, after a year, it is a good idea to discard them.
Loose mineral eye shadows on the other hand maintain a completely contamination free zone. They are fresh and new with each application and can go on forever. The downside, is you have so many you don't know what to do with them and you certainly don't want to waste them or the money spent by throwing them out.
Get Creative!
Mineral eye shadows can make great face colors and blush enhancers. Of course they have to be in the color category for accenting facial features and cheeks. After all you don't want to apply blue or green eye shadow to those rosy cheeks, not unless you enjoy martian status.
But for the colors which are bold and vibrant and possess pastels and rich tones outside of beauty for the face, then you can mix them on the lid to create a completely new color. Get fun and flirty and experiment with new eyeshadow shades you create by mixing and layering your old ones.
When you have the benefit of eye shadow shades that are flush and blush for the face and cheeks, then this works great for enhancing complexions and contouring cheeks. They can be used to deepen a blush or highlight just the apples of the cheek, or brighten the skin and give a rosy new glow to the face. They also work great for deflecting light, giving cheeks and skin a natural luminescence without looking shiny.
Give it a try! It is a wonderful way of using up old shades and you can truly get your money's worth by getting creative.
Another Great Beauty Tip: Recipe For Nail Polish Using Old Mineral Eye Shadow