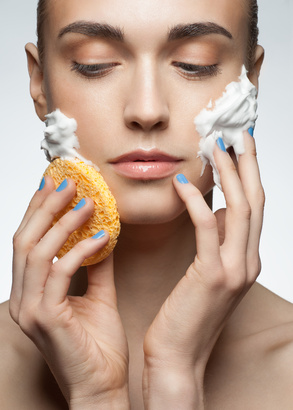 Mineral Makeup And Skincare Methods For Reducing Irritation To Sensitive Skin
Many women write to us about the fact they have hyper-sensitive skin and just about anything they use brings about a reaction. So needless to say they are worried when switching to any new mineral makeup or skincare product.
Unfortunately, we can't be all things to all people as much as we would love to be, but we have gone above and beyond to develop our mineral cosmetics and ONATI Skin Care to be very low in any irritation factor and they are created to be synergetically compatible. So there is hope for your hyper-sensitive skin.
Best methods for mineral makeup and skincare products, plus other tips for avoiding skin reactions:
Always select Delicate Rose Petal formula in our mineral makeup foundation, which is designed to be the best for delicate / sensitive skin issues.
Always apply mineral makeup using one of our synthetic makeup brushes. Do not use animal hair brushes since the bristles break and can cause irritation and poking on the skin.
Do not over buff our mineral powders. All they require is press and sweep motion. This reduces contact irritation like one gets with the old buffing method, grinding mineral ingredients into the pores.
Applying your mineral makeup with our moist method technique provides the best adherence and reduces friction, giving the mineral powders a creamy feel and texture on sensitive skin.
The use of our Evening Rose Veil has proven to be exceptional in soothing skin irritations on sensitive skin types, so use of this product at bedtime can help skin look and feel better by morning.
Even use of gentle fruit acids in some of our skincare products can cause some stinging on hyper-sensitive skin. Either completely avoid them or only apply to the face a couple of times per week, or before applying the minerals since they will counteract this with a soothing effect.
Never apply toner with a cotton ball, since this is like rubbing fiberglass on hyper-sensitive skin, whereby leaving tiny fibers behind to further irritate your face. Apply with fingertips using a patting motion or spray on with a fine spray mister, available under our accessories. Toner is not an astringent so patting is all that is necessary for normalizing skins' pH balance. In fact, avoid astringents altogether.
Never use a washcloth, buf puf pads, or facial brushes for cleansing the skin, since this is highly irritating to very sensitive skin types. Our microfiber face towels can be an excellent alternative, depending on your level of sensitivity. Sea sponges are also excellent for flushing the skin with gentle pressure, but never use them to scrub the face.
Always wash your face with a non detergent cleanser after a shower and shampoo to remove potential irritants left over from haircare products, like hair conditioning ingredients.
Avoid products with perfume or artificial fragrance on the label. Only use essential oils if they are identified rather than a "blend of essential oils" description. This way you'll know the potential for an irritant when using the products containing them.
Don't use drying cosmetic masks, but those made with honey, avocado, rose water, rice flour, yogurt, ground oatmeal and jojoba oil. Stay clear of mud masks, facial scrubs or peels.
Of course with any skincare or mineral makeup products on the market you use, there is always a potential for a reaction as every individual is unique, and unfortunately it boils down to the time consuming trial and error. This is why so many companies are offering so many choices. Like with all things, if you should have a reaction, discontinue its' use. And if irritation persists consult your physician.